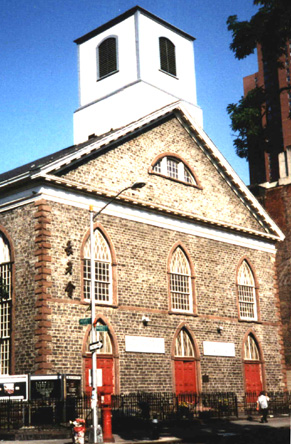 11:00 AM (Chinese)*
1:00 PM (English : Sept-June)
9:30 AM (English : July-August)

*Combined Services
Welcome to the website of the First Chinese Presbyterian Church! Here, we hope that you would enjoy your stay and fully explore what our church has to offer. It is our pleasure, our honor, and our duty to get to know you better. Whether you are a new Christian or a current Christian looking for a new home church in New York's Chinatown, with which to grow, fellowship and make lifelong friends, or you're seeking prayer, have questions about faith, Christianity, or the Bible, we invite you to come and visit us! It is our hope that God would work within each and every one of us to make your experience as a part of our family as pleasant as possible. See you soon!
We are located in the heart of New York City's Chinatown. See directions on how to get here.
Acts 2:1-21
Psalm 104:24-34, 35b
John 14:8-27
Romans 8:14-17
News & Announcements
***** Here Am I; Please Send Me! *****
This Week's Sermon
Justified By Faith, Suffering For Good
This Week's Bulletin
6/16/2019
Next Week's Preacher:
Reverend Sera Chung
Schedule of Sunday English Worship Services
June 2019
Board of Deacons
2019 Holy Communion Preparation & Clean Up Schedule
2019 Visitation Schedule FCPC 109th Anniversary Celebration
Evangelical Meeting
6-29-2019 at 2 p.m.
Preacher: Rev. Bayer Lee
Thanksgiving Combined Worship Service
6-30-2019 at 11 a.m.
Preacher: Rev. Bayer Lee
Revival Meeting
6-30-2019 at 2 p.m.
Preacher: Rev. Howard Li

Welcome to FCPC Facebook
---
Click here to join our mailing list!